---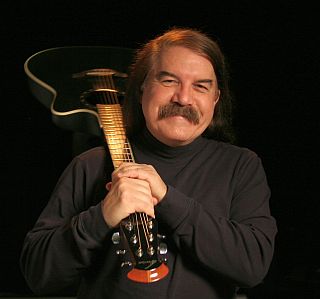 Del Suggs
Biography
Del Suggs
is a singer/songwriter and guitarist from the beaches of North Florida. He has appeared in concert at colleges, universities and festivals across the United States and the Caribbean.
Del
has appeared at over 700 colleges and universities across the US. He's also performed at such prestigious venues as the World Music Festa (Shirahama, Japan), Kerrville Folk Festival (TX), Spirit Square (NC), Lyric Theatre (FL), Sarasota Opera House (FL). Del has appeared at the Florida Folk Festival every year since 1983.

In 2016,
"Campus Activities"
magazine named Del one of the
"Top Five Artists
of the past 25 years

," an honor recognizing his lengthy career and continuing popularity.
Del is considered by many to be one of the founders and pioneers of "Trop Rock" (tropical rock) music. This popular genre is rightfully credited to Jimmy Buffett. Del began to perform in a similar style which he called "Saltwater Music," drawing on his experiences growing up along the Gulf Coast in Panama City, Florida. Del has a chapter featured in the book "
Trop Rock Songs : Stories and Tales"
by Andy Forsyth (2011). His songs have been covered by other trop rock artists such as
John Reno
("Magic Chair," "Break in the Weather," and "Billy" co-written with Pierce Pettis), and other recording artists Carol Ann Mathews, Tammerlin, and more.
Del has recently become one of the most popular Leadership Development and Motivational speakers in the college market.
For more information about his personal background as a speaker and trainer, you should
click here.
He was voted "Best Campus Speaker" by the member schools of the Association for the Promotion of Campus Activities in 2010. Del became the first artist to receive the top honor in two different categories. He had been named "Best Solo Artist" in 2002.
His accolades are too numerous to list, but here are a few. Del was named The Very Best Of the Best in the Music Category by Campus Activities magazine. He was named "Best Solo Artist for 2002" by the Association for the Promotion of Campus Activities. Del was named as a Finalist for the 2008 Association for the Promotion of Campus Activities awards for "Best Solo Act." Del was named as a Finalist for the 2006 Association for the Promotion of Campus Activities awards in two catagories: "Best Performing Arts Act," and "Best Solo Act." In 2005, Del was named as a Finalist for "Best Music Act" in the Campus Activities Today Readers' Poll. Del was named as a Finalist for the 2001 Association for the Promotion of Campus Activities awards in two catagories: "Best Performing Arts Act," and "Best Solo Act." Del was named as a Finalist for the 1999 APCA Campus Activities awards in three catagories: "College Performer of the Year," "Best Performing Arts Act," and "Best Solo Act." In 1998, Del was named as a Finalist for "Best Music Act" in the Campus Activities Today Readers' Poll. He was also named as a Finalist for "Coffeehouse Entertainer of the Year" in the 1998 National Association for Campus Activities Campus Entertainment Awards.
In 1996, Del represented the State of Florida at the World Tourism Summit in Wakayama, Japan, at the request of Gov. Lawton Chiles. His performance at the World Music Festa sold out in four hours, and was featured live on the major Japanese TV network NHK. Del was the only performer from North America, which also featured musicians from Spain, Korea, and China. He was the penultimate performer on the program.

On February 8, 2001 the staff of Campus Activities magazine and the Nation's Campuses inducted Del Suggs into The National Campus Entertainment Hall Of Fame .
Del has released five solo albums: "Living Deliberately," "LIVE," "Floating On The Surface," "Wooden Boat,"and "Saltwater Music". He has also been a featured artist on seven compilation albums, including: "Tallahassee Selects," "Music From The Rascal Yard," "The Prime Meridian", "The Cascades Collection", and "A Cascades Christmas". He released two additional albums with former bands.
Del has been a voting member of the National Academy of Recording Arts and Sciences (the Grammy Awards) since 1992, with the release of his first CD. In 1995, he was asked to serve on the Florida Branch organizing committee along with Emilio Estefan, Tom Morris, Howard Alpert, Don Tweedy, and Nancy Mraz. Together they were able to create the Florida Branch of NARAS, and within three years membership had grown large enough to become the Florida Chapter. This Florida Chapter continues to serve as a major force in the music industry, and the musical culture of the US and the world.
Although Del's most recent albums were released on the independent Cascades Recording Company and Key Porpoise Records labels, they have sold as far away as Japan, Italy, Australia, and New Zealand. Del's music has also generated European interest, with airplay on Belgium's Radio ATL and Radio Riga in Latvia, and reviews in Great Britain's Folk Roots and Italy's Late For The Sky magazines. His music receives airplay on Community and Public Radio stations from Massachusetts to California to the Virgin Islands. Del is an ASCAP-affiliated songwriter, and has received nearly a dozen ASCAPlus Awards, in recognition of excellence from songwriters "whose works have a unique prestige value."
Public Television has featured Del in two ninety-minute concert specials. Del Suggs: With My Friends, For My Friends was followed by Del Suggs and Friends: Together Again. Both Specials were originally broadcast live over satellite. These programs were very popular during membership drives on PBS, and were frequently paired in broadcast with James Taylor In Concert or the Austin City Limits Specials.
Although he tours solo and primarily as the headliner of small shows, Del has shared the stage with such notables as Guy Clark, The Flying Burrito Brothers, John Hammond, Townes Van Zandt, Pierce Pettis, Jonathan Edwards, Mac McAnnally, John McEuen, Larry Groce, Roy Bookbinder, Gamble Rogers, Garrison Keillor, Steve Key, Tim Weisburg, The Nitty Gritty Dirt Band, and many more.
Del is widely known for his public service and benefit concerts. He performs over twenty shows each year to support various human service, environmental, educational, and civil rights organizations. On three different occasions, he was recognized for his service being named a finalist for the Harry Chapin Award for Contributions to Humanity. This award is presented each year by the National Association for Campus Activitieis, and considered the one of the highest honors in the entertainment industry. Past recipients include Jackson Browne, Willie Nelson, Ken Kragen, Gene Cotton, the AIDS Quilt Project, and Comic Relief.
Del Suggs has been featured in publications such as The Monitor, The Hornpipe, Singout!, and Dirty Linen, and he was a board member of the Zassafras Music News, published by Crow Johnson. Del is frequently covered by newspapers across the country. Banana Republic, the chic California mail order house, selected Del as the first musician to review their products. Other reviewers include actor Alan Arkin, Beat Poet Lawrence Ferlinghetti, authors Garrison Keillor, Roy Blount, Jr. and gonzo journalist Hunter S. Thompson.
Del Suggs is an original. His continued success is a reflection of the broad appeal and timelessness of his music. Del is one of those individuals who comes on stage as a stranger, and leaves it as a friend. That is truly a rare gift.
---
---
Email Del at:
suggs@SaltwaterMusic.com
© 2022 by Saltwater Music

Internet services provided by Vashti